The New C-Class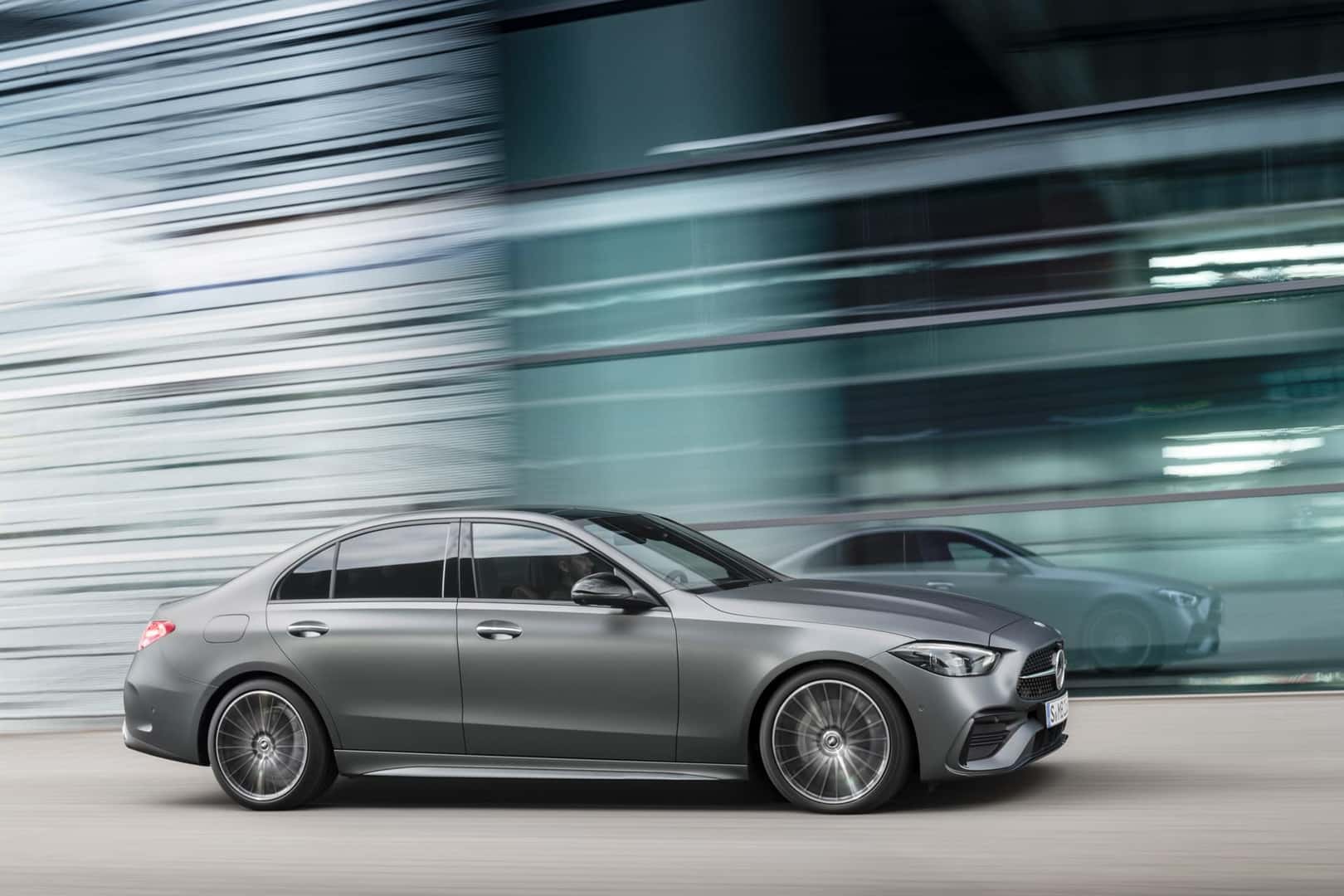 The C-Class and its predecessors have been a mainstay in the Mercedes-Benz lineup since 1982. Cumulatively, more than ten-million units the C-Class and the preceding 190E sold. The 2022 C-Class carries the baton from its esteemed predecessors and will proudly showcase a new progressive interior and exterior design, a selection of electrified engines, innovative comfort features, and ground-breaking technology.
Exciting Updates Include
Newly redesigned progressive interior
Upgraded exterior
Electrified engine options
The latest Mercedes-Benz Innovations including MBUX
A suite of comfort features
The new C-Class sports dynamics proportions; its cab-backward design makes for great proportions when factoring its long wheelbase and short front overhang. Overall interior room has increased for occupants, and surface finishes make use of premium materials and well-designed touches. Most notable is the technology-focusses digital instrument panel and central touchscreen display, the latter of which is angled towards the driver. Adopted from the S-Class, the placement of the central touchscreen and its arrangement make for ease of use and clear display of navigation functions. The new C-Class features the latest generation of Mercedes-Benz User Experience (MBUX). This is on-par with the S-Class and the system is sophisticated, user-friendly, and capable of learning and adapting to its users with advanced Voice Control and a fingerprint sensor for biometric authentication. Buyers will also have the choice of Apple Carplay and Android Auto when purchasing their new C-Class.
At launch, the C-Class will be available with a new turbocharged inline four-cylinder engine; this new engine is the first four-cylinder engine from Mercedes-Benz to feature an integrated starter generator and 48-volt mild hybrid system. At launch, the C 300 4MATIC Sedan will output 255 hp and 400 Nm of torque, and the 48-volt mild hybrid system can deploy an additional 200 Nm of torque and 20 hp for short periods to give smoother and swifter acceleration when needed. Also available for the C300 4MATIC Sedan are the suite of proven and improved driver assistance systems including Active Distance Assist DISTRONIC, Active Steering Assist, and Active Lane Change Assist. Newly available Active Stop-and-Go Assist can also behave semi-autonomously in congested traffic at speeds up to 60 km/h.
Upgrade your comfort zone with the new C-Class, arriving in Canadian showrooms before summer 2022. Contact us to learn more.